NFL MVP Odds: Mahomes Is Leading Favorite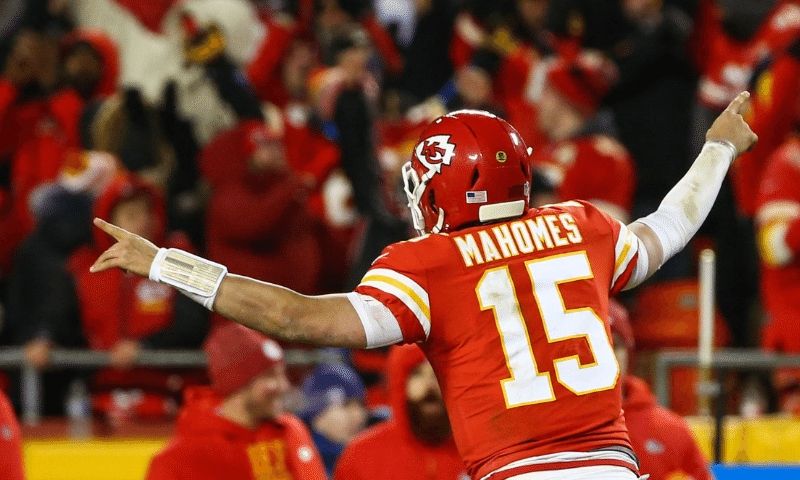 Last updated: September 10, 2020
One of the favorite wagers to make comes from the NFL futures market, and it's betting on who is going to win the NFL MVP award.
Whereas other major sports have had to put seasons on hold due to the coronavirus (COVID-19) pandemic, the NFL was in the middle of its offseason and had plenty of time before the new season began. Although the NFL offseason hasn't been perfect this time around, it's been moving along nicely. Included in that is the preparation by sportsbooks for the upcoming season.
Betting on which players wins the NFL MVP is always an entertaining wager, and it's a wager that can pay big due to the odds one can find in the NFL futures market. In this article, SharpSide will take an updated look at the NFL MVP betting odds.
*All odds in this article per FanDuel Sportsbook as of September 10, 2020, and subject to change.
NFL MVP odds
Below is a look at the odds from FanDuel Sportsbook for the top favorites to win the 2020 NFL MVP.
You'll notice that those top 15 favorites (which are actually 17 players due to some players having the same odds) are all quarterbacks, which is understandable given that the NFL is a QB-driven league and it's the most important position on the field. That doesn't mean a non-quarterback can win the NFL MVP award, but it does mean other positions are going to be longshots to do so.
The last time a non-quarterback won the NFL MVP award was in 2012 when Adrian Peterson won it. Before that, we did see back-to-back running backs win NFP MVP in 2005 and 2006 when Shaun Alexander and LaDainian Tomlinson won it. When you include Marshall Faulk's MVP win in 2000, only four times in the past 20 years has a non-quarterback won the NFL MVP and each of those four times it's been a running back.
Before we dig a little deeper into the most favored non-quarterbacks in the field, let's first take a look at a few of the biggest favorites on the board.
Patrick Mahomes, QB, Kansas City Chiefs (+380)
Patrick Mahomes is coming off a Super Bowl victory last season, as the Kansas City Chiefs defeated the San Francisco 49ers by a score of 31-20 in Super Bowl LIV. During the regular season, Mahomes played 14 games, having missed two games with an injury. He threw for 4,031 yards and 26 touchdowns, while only throwing 5 interceptions. He also added 218 yards and 2 touchdowns rushing.
Even if Mahomes hadn't missed two games, he might not have done enough in the eyes of voters to overtake Lamar Jackson for NFL MVP, which tells you just how good of a season Jackson had. Things could be different next season, though, and the odds show it, with Mahomes a good chunk ahead of Lamar Jackson, Russell Wilson, and everyone else for MVP odds.
The Chiefs believe in Mahomes plenty, too. This offseason, the two sides announced a whopper of a contract extension for 10 years and around $500 million. The extension kicks in after Mahomes completes his rookie deal, so things look like he's going to be in Kansas City for another 12 years.
The Chiefs a bringing back very much the same team that won them a Super Bowl last season. They even added running back Clyde Edwards-Helaire in the first round of the NFL Draft and he could be another very good weapon for Mahomes.
Lamar Jackson, QB, Baltimore Ravens (+700)
Last season, Lamar Jackson went off. He threw for 3,127 yards and 36 touchdowns, while also adding 1,206 yards and 7 touchdowns rushing. The entire Baltimore Ravens offense centered around him and he was able to lead the team to a 14-2 record.
Time and time again last season, Jackson proved he was the fastest and most athletic player on the field, with highlight play after highlight play, oftentimes a streaking run. He also improved a lot as a passer, making him one of the best dual-threat QBs we've ever seen. The question now is, can Jackson do it again?
If Jackson continues to improve, specifically with his passing, he's going to be even more of a handful for opposing teams. But now teams have a lot of tape on Jackson and the Ravens, things could get much more difficult. It's also worth noting that anytime you have a QB as willing to run as Jackson, injury is a concern. Overall, Jackson's very tough and has done a good job of avoiding injury.
With Jackson winning MVP last season, he'll be looking to become the first player to win back-to-back MVP awards since Peyton Manning did it in 2008 and 2009.
Russell Wilson, QB, Seattle Seahawks (+700)
Every season, Russell Wilson is the heart and soul of the Seattle Seahawks. He's entering his ninth season in the league and has never missed a regular-season start. Last season, Wilson threw for 4,110 yards, which was his second-highest regular-season total, and 31 touchdowns. He also only threw 5 interceptions, which was a career-low.
Wilson doesn't run as much as he used to, but he's still plenty mobile if he needs to be. Last season, Wilson rushed for 342 yards and 3 touchdowns. It's not the same rushing output Jackson provides, but Wilson is a better passer.
Cam Newton, QB, New England Patriots (+3200)
Now, Cam Newton isn't near the top of the MVP odds board, but he's back within the top 15 favorites after finally signing with a team. Newton didn't just sign with any team either. He signed with the New England Patriots and will be under the coaching of Bill Belichick. Newton's MVP odds of +3200 still have him as a bit of a longshot, but there's plenty of excitement building around the 2015 NFL MVP who has something to prove this season.
The big question around Newton is his health. Newton stands 6'5″, weighs around 240 pounds, and is chiseled. His running is one of his best attributes as a QB, but it's also gotten him hurt over the years from the pounding he's taken. Last season, Newton only played in two games before being sidelined with an injury and many have voiced their concerns over Newton's health.
But if Newton's healthy, heck, even if he's 90% of what he used to be, he could have a great comeback season under Belichick. That makes him an intriguing MVP choice for many.
Most-favored non-QBs
As we mentioned, it's not going to be easy for someone other than a quarterback to win the NFL MVP award, but with longer odds come bigger payouts. Let's take a look at the five non-quarterbacks with the most favored odds to win NFL MVP.
The trend here is that the five non-QBs with the most favored odds to win NFL MVP are all running backs, and very good ones at that. Christian McCaffrey generated a lot of buzz last season but likely didn't have a chance to win the award because of the seasons had by others.
Still, McCaffrey lit up the stat sheet with 1,387 yards and 15 touchdowns rushing, plus 1,005 yards and 4 touchdowns receiving. It also didn't help McCaffrey's case that his team went 5-11 on the season. This offseason, the Carolina Panthers signed McCaffrey to a four-year $64 million deal. It'll once again be hard for McCaffrey to overtake a quarterback and win the NFL MVP award, but he's one heck of an all-purpose running back and should see plenty of action under new head coach Matt Rhule. If anything, we're very excited to see more electrifying plays from McCaffrey all season long.
Tennessee Titans running back Derrick Henry is right there with McCaffrey on the NFL MVP odds, also coming off a very good season. Last season, Henry rushed for 1,540 yards and 17 touchdowns. Compared to McCaffrey, he was much less of a threat in the passing game, posting 206 yards and 2 touchdowns receiving.
If the playoffs were included, Henry's case for MVP would've been greater. He was the biggest reason the Titans were able to pull off two big upsets on the road against the New England Patriots and Baltimore Ravens before giving the Kansas City Chiefs a scare. In the three playoffs games, Henry averaged almost 150 rushing yards per game.
New York Giants running back is more of an all-around back like McCaffrey is, but also like McCaffrey he's on a team that isn't expected to go anywhere.
Ezekiel Elliott could be a very interesting buy for bettors looking to wager on a non-QB to win the NFL MVP. He's very talented, has a good situation, and could benefit from what's going on with Dak Prescott, who still seems to be at odds with the Dallas Cowboys over his contract situation.
With the Minnesota Vikings losing Stefon Diggs, one would think it opens the door for Dalvin Cook a bit more. The issue now seems to be that Cook is seeking a contract extension from the team and could threaten to sit out.
What about defense?
Yes, there are defensive players listed with futures betting odds to win the NFL MVP award. The highest on the board is Los Angeles Rams defensive lineman Aaron Donald (+10000), but as those odds suggest, it's a big longshot for him to win the award. The last time a defensive player won the NFL MVP was way back in 1986 when Lawrence Taylor won it. Every season since, it's been either a quarterback or running back.
The Watt brothers, JJ Watt and TJ Watt, have odds of +20000 each. That's also where Nick Bosa stands. Nick's brother, Joey Bosa, has the same odds as Khalil Mack at +25000.