NFL Divisional Round Player Props: Browns at Chiefs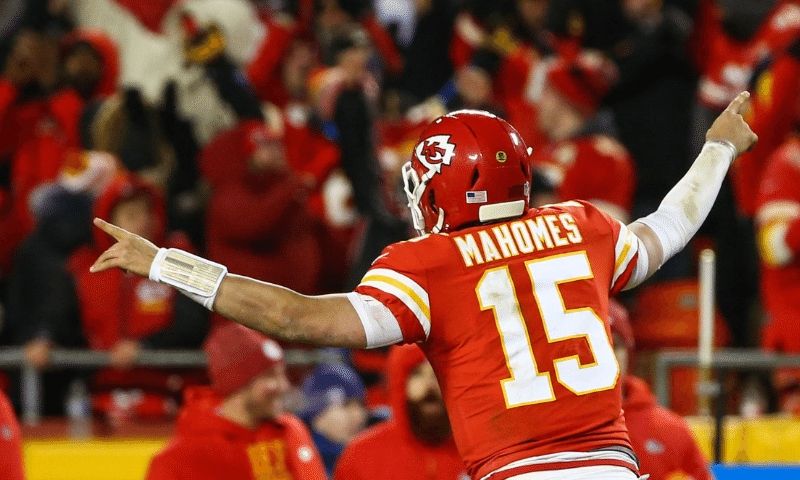 The NFL Playoffs are onto the Divisional Round. After Saturday saw the Buffalo Bills and Green Bay Packers punch their tickets to the AFC Championship and NFC Championship, respectively, Sunday will tell us who they'll be playing. First up on Sunday, January 17, is the Cleveland Browns versus the Kansas City Chiefs. The Chiefs are hosting the Browns and are 10-point favorites on the point spread. In this article, we'll take a look at some of our favorite Browns vs. Chiefs player props.
Patrick Mahomes – Over 17.5 rushing yards
For the first NFL player prop we're eyeing for Sunday, we're looking at a Patrick Mahomes player prop, only we're not looking at a passing prop. Instead, we like a Mahomes rushing prop.
Mahomes certainly wows people with his arm, but he's got good legs, too. He might not be Lamar Jackson with his rushing ability, but Mahomes is plenty mobile. Last season in the playoffs, Mahomes upped his rushing. He took off running on 24 occasions across the three playoff games he played in, including the Super Bowl. He had 7 attempts in the first game, 8 attempts in the second game, and then 9 attempts in the third game. In those three games, Mahomes' rushing yards were 53, 53, and 29.
Use Promo Code: SHARPSIDE
Available In 31 States!
Fun, Fast Prop Picks
In the gotta-have-it moments of playoff games, Mahomes appears to be more willing to take what the defense gives him with his legs. There will be plenty of yards to get rushing for Mahomes, as teams will be hard-pressed to focus their defense on Kansas City's passing attack. The Browns are going to have their hands full with Tyreek Hill, Travis Kelce, and whoever else the Chiefs throw at them in this electric offense, which can open up the door for Mahomes to break pocket in order to pick up some chunk plays with his legs. If Myles Garrett is anywhere near the force he's been during the season, he can flush Mahomes out and cause him to run.
The playoffs are also when Mahomes will want to be extra careful with the ball, so instead of trying to fit throws into tight windows on the run, there's a good chance Mahomes just tucks the ball and runs. Again, taking what the defense gives him.
Finally, don't rule out Andy Reid scheming up a couple of designed run plays for his mobile quarterback. The Chiefs have had plenty of time to prepare for this game and Reid always enjoys dipping into his bag of tricks.
Kareem Hunt – Over 31.5 rushing yards
When betting play props, it's important to find multiple ways to victory. The more opportunity to hit the player prop, the better your chances are of winning the bet.
Kareem Hunt is a player we like to hit over 31.5 rushing yards when he takes on his old team on Sunday.
Hunt is part of Cleveland's two-headed monster of a backfield, alongside Nick Chubb. Chubb will likely get the bulk of the carries in this game, but there should still be plenty of opportunities for Hunt. Here's why.
If the Browns keep this game competitive, which might be difficult to do given the point spread if 10 points, then they're likely going to need the run game to be working quite well. If the run game is working for the Browns, Chubb and Hunt will be involved a ton. Chubb will likely get the bulk of the load in this scenario, but he can't do it all. Hunt is an extremely capable back and can spell Chubb when needed.
If the Browns fall behind and need to play catch-up, Hunt is likely going to be the primary back on the field. He's more of the team's pass-catching back than Chubb is. Although the Browns would likely need to be passing to come from behind against the Chiefs, there tend to always be a fair amount of draw plays worked into the mix that can work well against a soft defense.
The bottom line is that we see Hunt being involved whether the Browns are keeping this one close or if they're losing big and pushing hard to come back.
Jarvis Landry – Over 59.5 receiving yards
With a total of 58, expectations are that there will be plenty of scoring in this Browns vs. Chiefs game. Cleveland will likely do what it can to establish its running game, but that can only work so much. The Browns will likely need to throw the ball to stay competitive in this one, and that's why we're on this Jarvis Landry player prop.
Landry is really the only NFL wide receiver on this Browns team (not counting Odell Beckham, of course). Baker Mayfield is going to need to find someone with his throws and the options not named Landry aren't that great. Landry should see plenty of targets and he always does well with the targets he receives.
To make free sports betting picks for your chance to win, check out the SharpSide sports betting app, available now for iOS and Android.