Best Patrick Mahomes Player Props for Super Bowl LV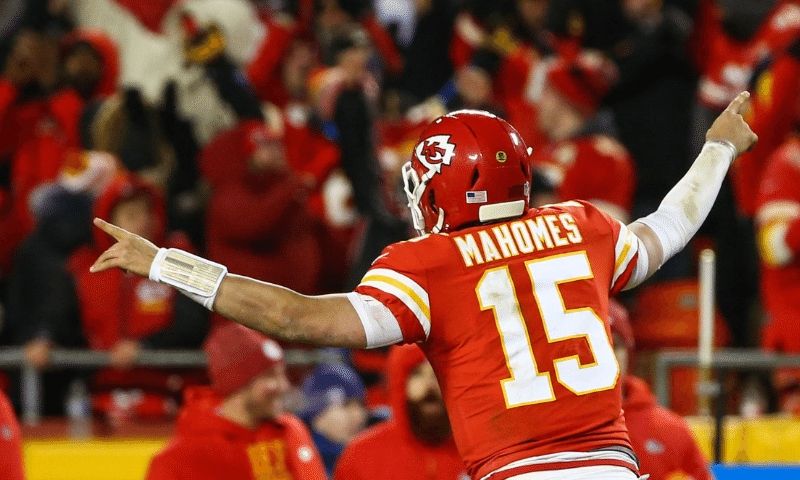 On Sunday, February 7, 2021, Patrick Mahomes and the Kansas City Chiefs take on the Tampa Bay Buccaneers in Super Bowl LV. What are the best Patrick Mahomes player props for Super Bowl LV and where can you find value? Let's take a look.
Patrick Mahomes Passing Yards
If you thought Tom Brady's player prop for passing yards was high, wait until you see what the line is for Patrick Mahomes. Looking around the industry, Mahomes has an over/under of between 325.5 and 329.5 passing yards. That's around 30 yards higher than where Brady's line is at but isn't so surprising when you consider how explosive the Kansas City Chiefs are on offense and the fact that the game has a 56.5 total.
If you're interested in taking the over on passing yards for Mahomes, DraftKings Sportsbook will be where you want to look. At the time of writing, DraftKings Sportsbook had the line at 325.5 yards with the over priced at -112. If you're someone willing to bet the under, FanDuel Sportsbook had under 329.5 (-110) at the time of writing.
My thoughts are to take the over on 325.5 passing yards for Mahomes. The Buccaneers have one of the best run defenses in the NFL, rated No. 1 by FootballOutsiders.com and No. 11 by PFF.com. We already know that Kansas City loves to pass the ball more often than it wants to run the ball, and when you add in how well the Buccaneers can be against the run, it makes sense to expect Mahomes to throw quite a bit in this game.
Mahomes has some great weapons at his disposal, too. Tyreek Hill and Travis Kelce are the two big names but don't sleep on Mecole Hardman or some of the other pass catchers for Kansas City because they all have the ability to break off big chunk plays.
Use Promo Code: SHARPSIDE
Available In 31 States!
Fun, Fast Prop Picks
Patrick Mahomes Passing Touchdowns
If you read my write-up on Brady's player props for Super Bowl LV, then you're aware I'm expecting quite a bit of offense in this one. For Kansas City, that means passing touchdowns more than it does rushing touchdowns.
Mahomes has a passing TD player prop of over/under 2.5 touchdowns, with the over priced anywhere from -133 to -155. The under is priced from +108 to +125. I like the over and would look to BetMGM where I can get over 2.5 passing touchdowns for Mahomes at -133.
I don't completely hate trying to find an alternate line on passing touchdowns for Mahomes and taking the over there, too. BetMGM is offering over 3.5 passing TDs for Mahomes at +240, whereas DraftKings Sportsbook had it priced at +185. I can certainly see within the range of outcomes the Chiefs putting up at least 35 points and Mahomes throwing four or more TD passes.
Patrick Mahomes Interceptions
The price on Mahomes to throw an interception is +145 on over 0.5 INTs from both DraftKings Sportsbook and BetMGM, at the time of writing, with the under at -182 at each sportsbook. Laying -182 to take a pretty safe QB in Mahomes to not throw an interception may not seem like a big price to lay, but it's a little too much for me to want to take it.
I anticipate the Chiefs throwing the ball plenty in this game. While I don't exactly feel like it's a lock that Mahomes is going to do something stupid that causes a turnover, the Buccaneers pass rush is good enough to put some pressure on Mahomes and force him to make more acrobatic throws. Mahomes is definitely capable of hitting tough throws, but it's his receiver that I don't trust as much.
There have been plenty of times when Hill or Kelce don't showcase the best hands, and we've seen how the Chiefs can start games a little out of sorts. It could certainly be the case that Mahomes throws an interception caused by one of his receivers not catching the ball. The Chiefs did have the eighth-most drops in the NFL in the regular season.
Although I'm still a little on the fence with this one as of Wednesday, I'm leaning to take over 0.5 interceptions for Mahomes at the +145 price.
Patrick Mahomes Rushing Yards
Mahomes has a rushing yards player prop of 19.5 yards at DraftKings Sportsbook, FanDuel Sportsbook, and BetMGM. At PointsBet, the line is 21.5 rushing yards. If you're interested in taking the over, BetMGM has the best price at over 19.5 yards for -105. If you're looking to take the under, you can get under 19.5 yards for +110 at DraftKings Sportsbook. Those odds and prices are at the time of writing on Wednesday, and you can check the latest odds on Mahomes' player prop page right here on SharpSide.com.
I lean over on this one, and it's not because Mahomes is like Lamar Jackson out there as a running quarterback. Mahomes has good movement in or outside the pocket and isn't scared to take off and run in order to grab the yardage that the defense gives him. He was playing through a toe injury a couple of weeks ago, but Mahomes has looked fine in action since then and will be coming off a full two weeks of rest before this game.
If Tampa Bay is able to generate some pressure and push Mahomes outside the pocket, Mahomes can look to take off for chunks of yards on the ground. Mahomes is also a sneaky good runner, using the threat of the pass to freeze defenders in order to get more yards or open up space, and he will often grab some extra yards when opponents think he's just going to run out of bounds or slide. It's not that Mahomes is trying to blast through defenders as Josh Allen might, but he's deceptive and better at running than some may think. We'll just need to fade any kneel-downs at the end of the game like we lost on in last season's Super Bowl.
For more on Mahomes' player props and to shop the best lines, check out Mahomes' dedicated player props page on SharpSide.