Meet the SharpSide Team
SharpSide is the home of the sports betting community, launched in 2018 by RotoGrinders. SharpSide focuses on the world of sports betting and its community, featuring leaderboards and rankings that track sports betting enthusiasts around the world. SharpSide's leaderboards and rankings are free to participate in using the free-to-play SharpSide app.
SharpSide.com is built to provide leading content to sports gambling enthusiasts everywhere, and the SharpSide team provides unique content covering news, analysis, up-to-date information, interviews, lifestyle, contest and event results, and more from the world of sports betting. All content is original and produced exclusively for SharpSide.com. SharpSide's content is meant for entertainment purposes only.
SharpSide's team consists of experienced content writers and producers responsible for bringing the sports betting industry to you on a consistent basis.
---
Donnie Peters, Operations Manager
Donnie is the operations manager for SharpSide. He has more than 10 years of professional experience in the gambling industry, working extensively in the worlds of poker and sports betting.
Donnie was named Media Person of the Year at the American Poker Awards in 2016.
Donnie currently resides in the gambling capital of the world, Las Vegas, Nevada, and can be found on Twitter at @Donnie_Peters.
---
Erik Beimfohr, Product Manager
Erik is the product manager for SharpSide. He has a vast amount of experience working in the industry and brings to the table an entrepreneur's mindset that has helped develop SharpSide and the SharpSide app into what they are today.
Erik is a regular daily fantasy sports competitor with a fair amount of DFS success to his credit.
He can be found on Twitter at @erikbeimfohr.
---
Grant Neiffer, Contributor
One of the most vibrant and interesting personalities in all of DFS and sports betting, Grant has economics and accounting degrees from Azusa Pacific University.
He's been playing DFS and sports betting for several years. In DFS, he's qualified for countless live finals and is routinely at the top of the RotoGrinders rankings in all of the major sports. Grant regularly contributes to SharpSide with written, video, and podcast sports-betting content.
Grant can be followed on Twitter at @gneiffer07.
---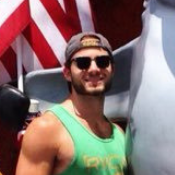 Jourdan Case, Contributor
Jourdan is a contributing member of the SharpSide team and the resident expert on the two most prominent college sports, football and basketball.
His college sports analysis represents some of the best sports-betting insight when it comes to wagering on these two popular offerings. Jourdan has done plenty of deep dives into college football and college basketball, even with developing his own models for projections.
Jourdan can be followed on Twitter at @TheJourdanCase.
---
Brett Appley, Contributor
At SharpSide, Brett Appley is the resident MMA expert, focusing on general betting analysis to help you get an edge.
One of the top MMA minds in the industry, Brett, also known as "bbbomb," has been writing the weekly MMA articles for RotoGrinders since the beginning of 2015 and providing content full-time since 2017. Brett leads the RotoGrinders MMA Premium. In addition to his content you find here on SharpSide, be sure to subscribe there for even more analysis and ways to win.
Brett earned a top-10 DFS MMA ranking in 2016 and 2017 and won the Season Long Championship in 2018.
Brett can be found on Twitter at @BrettAppley.
---
Kevin Taylor, Contributor
Kevin Taylor has been a sports fan since he could remember. Growing up on college basketball and tennis, his interests have mainly shifted to the NFL and European Club Soccer.
After graduating from USC with a degree in broadcast journalism, Kevin has established a career in poker media and sports writing. His favorite teams are USC football, the New Orleans Saints, and Manchester City.
Kevin can be found on Twitter at @tayke2.
---
Holden Kushner, Contributor
Holden Kushner has been a radio and television sports talk host for more than 20 years. He's been an avid sports bettor since 1999, when he lived in Las Vegas and hosted a nationally syndicated radio program from the Mandalay Bay sportsbook.
After 13 years on TV and radio in Washington, D.C., as a sports talk show host, Holden decided to shift his focus full-time into the sports betting and daily fantasy arena. Among his numerous jobs, Holden currently works as on-air talent for RotoGrinders.com and writes for SportsHandle.com, ScoresAndOdds.com, and Sharpside.
He currently resides in Denver, Colorado, with his two kids and six televisions.
Holden can be found on Twitter at @Holdenradio.